Driveway is an important feature of any home. If done well, it can increase the value of your property, awe passing neighbours, and if you have a home business, create a great first impression with your clients.
However, when you are renovating or building your driveway for the first time, you must wonder which materials to use? Also, what are the differences between the most popular material options like concrete and tarmac? Finally, how much does a concrete or tarmac driveway cost?
Concrete VS Tarmac Driveway Cost and Differences
Let's start by listing the differences between a concrete and a tarmac driveway. At the end of the installation, concrete and tarmac driveways look quite different. However, the two materials also have similarities.
Driveway Materials
Both concrete and tarmac driveways have a gravel base, they are made with stone and sand, and their primary difference lies in the adhesive material. Concrete is made of cement and tarmac has a petroleum base.
Concrete VS Tarmac Driveway Cost
The first big difference lies in the price. On average, a concrete driveway costs between  €60 and €90 depending on the current state of your driveway and other requirements. On the other hand, a tarmac driveway can cost you between €25 to €40 per square meter, depending on the similar parameters.
Durability
Naturally, when you make such a big investment in your home as a concrete or a tarmac driveway, you want it to last as long as possible. Luckily, with proper maintenance and occasional repairs, tarmac driveways can last up to 30 years, and concrete up to 50.
So, concrete can last longer, but maintaining and repairing concrete is much more expensive.
Tarmac Driveway Cost and Benefits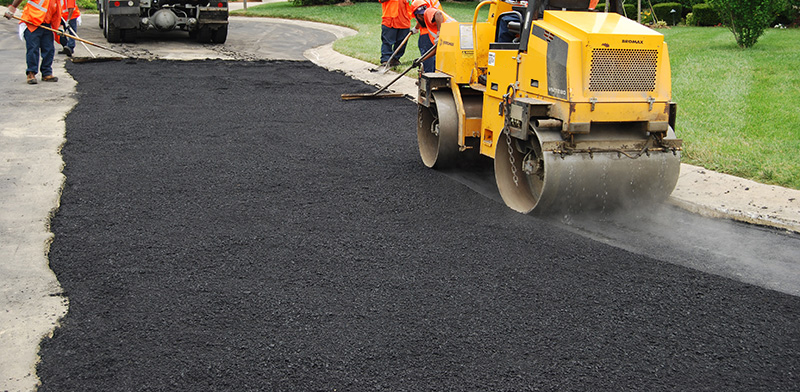 Tarmac driveways can bring you three big benefits. Price, ease of installation, and maintenance. Other than gravel, tarmac is the cheapest driveway option around Dublin and Ireland in general.
Ease of installation means there is little digging, the whole process is much faster and the driveway ready to use much sooner. This is because we can pour tarmac directly on the surface, with only a gravel layer between the ground and the driveway material.
And finally, the need for and cost of maintenance is minimal. Applying a tarmac sealer is easy, fast, and cheap, but also effective if done by professionals. Even if you experience a few dents or bumps after heavy usage, we can easily apply another layer of tarmac on your driveway.
You also want to make sure that your driveway matches the exterior paint of your house.
Are You Looking for Tarmac Driveways?
Tarmac driveways cost less, they are easier to maintain, and with current technology, they can look just as impressive as any other driveway material. However, in the end, it boils down to your needs and wishes.
If you think tarmac is just what your driveway needs, you can reach us on 045 896 261 / 00353 87 257 0867 or send us an email and we can find a driveway solution that you will love.